Even in today's digital world, customers often prefer phone support when reaching out to customer service. The immediacy and familiarity of talking on the phone with a real human builds trust between a customer and customer service agent, making it an irreplaceable tool in some of the best call center software.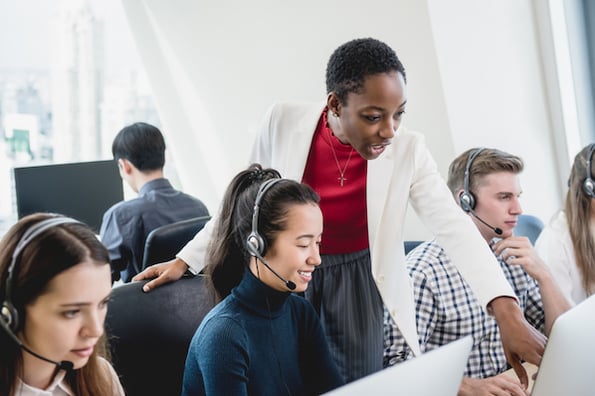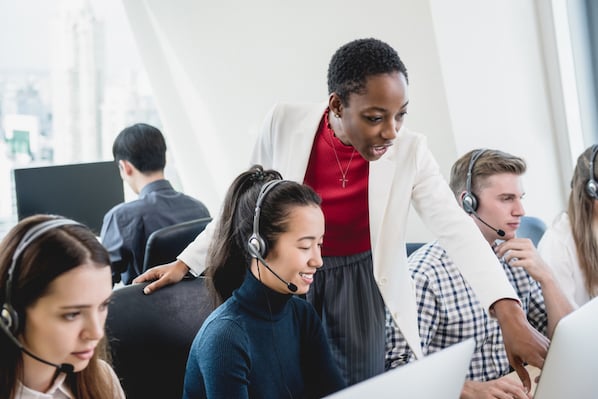 While phone support is often a great way to help customers, it's also the most time-consuming, least cost-effective, and hardest-to-measure support channel. To offer customers great phone support, you'll need an effective call center software that allows your service team to do their best work.
Get Started with HubSpot's Help Desk Software for Free
The best call center software routes calls to the right agents, provides employees with additional context, and helps management execute an omni-channel strategy.
So, choosing the right tools to build your call center is critical whether you're a team of ten or a few hundred. This post breaks down common features of call center software and the best call center software options available this year. Learn about the following:
Call Center Software Features
The best call center software for your team depends on your specific needs. Every tool has benefits and drawbacks depending on how you plan to use it. To understand which tool is right for you, create a list of desired features and then focus on your top choices. Below are a few features you might want to consider in your search.
1. Omnichannel
If you're looking for a call center software, then you're likely supporting your customers through other communication channels as well (like email, live chat, or social media). It's important to consider how well your new call center software will integrate with your other channels.
HubSpot found that a unified customer service experience reduces customer friction and increases front line efficiency. Ideally, incoming calls should be logged on your help desk, which will allow agents to follow up via email. This feature will let everyone on your team see the context of previous customer interactions — regardless of the channel they took place on. As a result, you'll create a consistent customer experience no matter which channel the interaction begins on.
2. Call Routing
When customers call your team, how do they get connected to the right person quickly?
Whether your software offers automated call routing or if customers need to select a department after listening to a set of options, it's important to understand how your call routing will work. Many systems are complicated to update on the fly — so try setting up and changing your workflow during your trial period to make sure you're not stuck with one configuration.
3. CRM Integration for Customer Context
Customers find it frustrating to repeat their issue to different support reps and provide a summary of their previous interactions.
But when agents have more context about the customer who's calling, they can provide more effective support. They can quickly reference past interactions with the customer, which prevents customers from repeating themselves. Agents can look at trends in product usage and take steps to ensure the customer doesn't need to reach out again about the same issue.
Many call center tools provide context through CTI (computer-telephony integration) pop-ups that identify a customer through their phone number and surface previous interactions through the browser. Understanding how the software you're evaluating logs calls and integrates with other systems (like your CRM) is critical to providing your agents with enough helpful context.
4. Cloud-Based Calling
Call centers operating on cloud networks will require a cloud-based calling system to align with their online databases. Cloud-based calling, or a Voice over Internet Protocol, (VoIP), is a phone system that runs through the internet instead of a phone line.
While a third-party provider typically offers this service, it's usually cheaper to install and maintain than regular landlines. That's because VoIP doesn't require on-premise hardware, which removes the typical maintenance and infrastructure costs that traditional phone lines have.
5. Reporting
Running a call center requires managers to have a finger on the pulse of call center metrics like incoming call volume, call trends, and agent efficiency. It's impossible to manage scheduling and plan for the future without knowing how your team is handling fluctuations in traffic. Reporting can identify common issues that customers are calling about, demonstrate gaps in your support coverage, and highlight potential training opportunities.
6. Outgoing Calls
Call center software isn't just for inbound customer service. Agents might need to make outbound calls if you offer proactive customer support options. Sales teams might work through your call center software to place calls to prospects.
If your contact center also requires agents or sales teams to place outgoing calls, look for software that includes an automated dialer and easy-to-use call logging features so your CRM stays up to date.
7. Usage Pricing
Take a close look at the software's pricing per phone call or per use. Depending on how your chosen software assigns your phone numbers, you might be charged more than expected for each minute on the phone. Before committing to new phone lines, confirm what's included in the package and how much each call and minute will cost.
8. Interactive Voice Response
An interactive voice response feature will allow your customers to speak with an automated system before reaching your support team. While your customer might not enjoy talking to a machine, they may resolve some of their issues through this option or provide basic information that will allow your team to serve them better.
An IVR feature will help manage your team's call volume and automatically collect relevant information from the customer. When the customer gets to a human, all the information the representative needs is already available, and the customer won't have to repeat themselves.
9. Call Scripting
If you handle a high volume of calls that pertain to similar issues, you'll want to consider a call center software that offers a call scripting feature. Like a chatbot, a call script picks up on certain keywords in the customer's email and provides troubleshooting instructions based on a common answer. You should be able to look at the script history and personalize your response to the customer.
A call scripting feature could also come in handy because it allows you to create common scripts that all your agents can use. That way, the customer has a consistent experience regardless of the agent they've reached.
10. Escalation Management
The best call center software will allow you to manage the escalation process for urgent customer support queries. From the moment a customer calls with an issue, they should be able to move forward to the appropriate party at each step of the process. Your call center software should also allow your agents to de-escalate issues by granting vouchers, discounts, or refunds through the software, especially in that single call.
Now that you know what to look for when evaluating call center software, let's look at the best options available.
Best Call Center Software
HubSpot
Dialpad Ai Contact Center
Aircall
Nextiva
CloudTalk
Bitrix24
TalkDesk
Five9
RingCentral
Dixa
Zendesk
LiveAgent
Avaya Contact Center
uContact
HappyFox
Channels
Freshcaller
UJET
Aloware
Get Started with HubSpot's Call Center Tools
If you're looking for a powerful but easy-to-use call center software, look no further than HubSpot's VoIP software. Call customers directly from HubSpot's platform and leverage features like call logging and analytics. You won't have to worry about logging interactions — recorded calls are automatically logged on contact records in the HubSpot CRM database, which provides a comprehensive picture of customer needs, activity, and past interactions.
Best for:
Call log management
Call prioritization
Reporting
Integrations
Pricing: Free; $45/month (Starter); $450/month (Professional); $1,200/month (Enterprise)
Dialpad Ai Contact Center allows you to access all your customer interactions — regardless of channel — from a single app, accessible from anywhere, on any device.
What makes Dialpad unique is its AI, powering built-in features like hyper-accurate voice transcription, sentiment analysis, agent coaching, chatbot self-service functionality, and more, all in real-time.
Dialpad also integrates with popular CX tools, like HubSpot, Salesforce, and Zendesk, tying them all together into a single pane of glass. Setting up a new contact center with Dialpad takes just a few minutes. You can also add and remove agents, manage phone numbers more quickly and easily, right from your Dialpad account. This allows your business to scale easily with DialPad.
Best for:
Outgoing calls
Workforce engagement management
Sentiment analysis
CRM integrations
Call routing
Pricing: Pricing available on request
Speaking of Aircall, this cloud-based call center can help your support team transform customer experiences.
This software includes some of the top features mentioned earlier, including IVR, cloud-based calling, call routing, and more. Additionally, the software boasts features such as skill-based routing, call queuing, queue callback, live call monitoring, and call whispering.
With the call whispering feature, managers can advise teammates behind the scenes and make an impact right at the moment. This is great for the customer experience and training purposes as well.
Aircall also has call center analytics so you can monitor the performance of your agents, either individually or as a team.
Best for:
Cloud-based calling
Interactive voice response
CRM integrations
Call monitoring
Shared call inbox
Pricing: $30/user (Essentials); $50/user (Professional); Custom (Enterprise)
Nextiva is an easy-to-use solution that helps you connect with more callers in less time and with fewer agents. With Nextiva, you get features like IVR, automatic call routing, and call queuing.
Also, you can optimize agent call flow, leverage virtual agents to automate interactions, and streamline the experience for the caller.
Best for:
Interactive voice response
Call recording
Cloud-based calling
Call routing
Reporting
Pricing: $18.95/user/month (Essential); $22.95/user/month (Professional); $32.95/user/month (Enterprise)
CloudTalk is an innovative call center software that provides users with various unique tools. For example, its custom queue feature allows support teams to dictate where incoming calls will be distributed. With CloudTalk, inbound calls are routed to agents best suited to solve the customer's issue. This eliminates call transfers, which can add friction to the customer experience.
Another customizable feature that CloudTalk offers is personalized voicemails. If your team is unavailable, customers can leave voicemails that agents can respond to later. That way, customers aren't stuck on hold waiting endlessly for your team to answer. Instead, they can simply leave a message, return to their work, and wait for your team to reach out with a prepared solution.
Best for:
Skills-based call routing
Post-call tagging
CRM integrations
Advanced reporting
Real-time analytics
Pricing: $25/user/month (Starter); $30/user/month (Essential); $50/user/month (Expert); Custom
A contact center built around your to-do list, Bitrix24 helps teams collaborate to get their work done. They offer a multitude of customer service channels, including rentable telephone lines, live chat, and email queues that all integrate into Bitrix24's task management software and CRM. Bitrix24 also offers an on-premise solution for industries that are still required to, or feel more comfortable hosting their own data storage.
Best for:
Internal collaboration
Interactive Voice Response
HD video calls and conferences
Task automation
Call routing
Pricing: Free; $19/month (Start+); $43/month (Basic); $87/month (Standard); $175/month (Professional); $350/month (Enterprise)
A robust call center solution for enterprise teams, TalkDesk offers features designed to help big teams manage phone support quickly. From workforce management to industry-specific security features, TalkDesk provides teams with everything they need to deliver a consistent customer experience at scale.
Best for:
Omnichannel support
Workforce engagement management
Internal collaboration
Advanced reporting and analytics
Skills-based call routing
Pricing: $75/month (CX Cloud Essentials); $95/month (CX Cloud Elevate); $125/month (CX Cloud Elite); Custom
Five9 combines everything your business needs to launch a complete customer service and sales call center. Focused on enterprise businesses, Five9 includes workforce management tools, predictive dialing, and CTI screen pops to help agents provide better service and not miss a chance to upsell.
Best for:
Cloud-based calling
CRM integrations
Call recording
Real-time analytics
Predictive dialing
Pricing: $149/month (Core); $169/month (Premium); $199/month (Optimum); $229/month (Ultimate)
RingCentral is a flexible cloud-based phone system that supports desktop and mobile users. One unique feature it provides is "RingOut," which enables one-touch calling from any phone or internet-enabled computer. Additionally, RingCentral has powerful call delegation and answering rules so you can be sure calls are routed to the right individual.
Best for:
Omnichannel support
Escalation management
HD video calls
Integrations and APIs
Cloud-based calling
Pricing: Pricing available on request
Dixa is a simple-to-set-up contact center that runs entirely in a web browser. Featuring advanced call distribution algorithms and caller recognition, Dixa is a modern solution designed to improve the experience of both the customer and the contact center administrator.
Best for:
Skills-based call routing
Priority-based call routing
Call monitoring
Customized quality assurance
Internal collaboration
Pricing: Pricing available upon request
Built on one of the most extensive customer service platforms, Zendesk offers a call center solution for businesses of every size. With automatic ticket creation, agents can take advantage of Zendesk's slick help desk features to help customers across every channel.
Best for:
Customizable automations
Omnichannel support
Interactive Voice Response
Call recording
CRM integrations
Pricing: $49/agent/month (Suite Team); $79/user/month (Suite Growth); $99/user/month (Suite Professional)
LiveAgent's call center solution is built directly into their multi-channel help desk, so you can help customers over any channel you choose. One of the only tools on the list not to charge a per-minute usage fee, LiveAgent can be a cost-effective solution for small and medium-sized businesses that rely on phone support.
Best for:
24/7 customer service support
Outgoing calls
Automated callbacks
Advanced reporting and analytics
Integrations and APIs
Pricing: Free; $15/agent/month (Ticket); $29/agent/month (Ticket+Chat); $49/agent/month (All-inclusive)
Over 90% of Fortune 100 companies use an Avaya product to manage their contact center, according to the Avaya website. That's because it's been a heavyweight in the communications industry for years. With multiple advanced features in its standard platform, you can be sure you're getting an enterprise-level product when using Avaya's omnichannel contact center solution.
Best for:
Call routing
AI digital automation
Sentiment analysis
Voice and facial biometrics
Call monitoring
Pricing: Pricing available on request
UContact offers an interactive voice response system, or IVR, that allows your team to take fewer calls and your customer to resolve their issue automatically. Rather than having customers call you and wait on hold to connect with a rep, an IVR provides an immediate response to customers when they dial your support line. This digital assistant lays out various options for the caller to choose from, then either solves the problem independently or automatically connects the caller to a human agent.
Best for:
Omnichannel support
Interactive voice response
Real-time analytics
Social media integrations
Workforce engagement management
Pricing: Pricing available upon request
HappyFox is a help desk software that offers powerful call center capabilities. The platform integrates with Aircall and RingCentral to automatically record and assign calls to tickets inside the system. Its features include call scripting, custom ticket queues, and Service Level Agreement (SLA) management.
Best for:
SLA management
Call scripting
System integration
Advanced reporting
Customizable workflows
Pricing: $29/agent/month (Mighty); $49/agent/month (Fantastic); $69/agent/month (Enterprise); $89/agent/month (Enterprise Plus)
Channels is a call center software that allows you to respond to customers' calls via its convenient mobile app. You can set call distribution rules and integrate Channels with other software in your technology stack, including HubSpot, Zapier, Zendesk, and Shopify.
Because it's specifically a phone system — and not a full-scale help desk software — Channels is a great choice for small companies just now establishing a call center.
Best for:
CRM integrations
Outgoing calls
Advanced reporting
Interactive voice response
Call recording
Pricing: Free; $24/month (Plus); $62/month (Advanced)
Freshcaller is just one of Freshwork's diverse SaaS offerings;the company also offers customer success, IT, and HR software systems for enterprise companies.
Freshcaller is a dedicated phone system that makes it painless and easy for international businesses to manage customer support calls. With Freshcaller, you can set up a multi-level interactive voice response system, respond to calls on the Freshcaller mobile app, and automate call distribution.
Best for:
Omnichannel support
Call routing
Multi-level interactive voice response
SLA management
Pricing: Free; $15/user/month (Growth); $39/user/month (Pro); $69/user/month (Enterprise)
UJET's robust contact center platform integrates seamlessly with your CRM and allows you to unify, contextualize, and improve the customer journey, all conveniently from your customer's smartphone.
One of UJET's most popular features is SmartActions, which allows your customers to share photos, videos, and texts with a live agent to point directly to the problem rather than having to describe it.
Agents can also authenticate customers using an existing pin, passcode, fingerprint, or Face ID technology on the customer's smartphone. UJET adheres to the industry's strictest privacy standards, and all customer information is stored directly in your CRM or private data repository.
Best for:
Real-time analytics
Voice, digital, and AI engagement
Integrations and APIs
Automated ticket management
Outgoing calls
Pricing: $65/month (Basic); $69/month (Digital); $99/month (Pro); $120/month (Enterprise)
Aloware is a contact center software built to supercharge sales/support operations with unlimited calling and texting you can integrate with your favorite CRM. Its cloud-based phone system paired with Local Presence enables SMEs to wirelessly communicate with their customers wherever they may be. Phone lines, ring groups, and inboxes can be configured to fit every business need.
Aloware also comes with tools for power dialing, SMS broadcasting, and contact automation. Managers can remotely monitor their team and supervise calls through its live dashboard. They also get clear visibility on call volumes, durations, and queues to effectively manage day-to-day performance.
Pricing: $35/user (unlimited inbound), $60/user (unlimited inbound and outbound), and $80/user (power dialer included). Billed annually. Quarterly plans are also available.
Best for:
Omnichannel support
Outgoing calls
CRM integrations
Interactive voice response
Real-time reports and analytics
These leading call center software systems will help you create a winning customer service strategy and help you provide the support that turns unhappy customers into brand evangelists.
Use call center software to supercharge your support team.
The modern customer expects excellent support on all channels, including live chat, email, and phone. But this can overwhelm your support team — especially if these channels are on different software systems that don't integrate with each other. With call center software, your team can unify their omnichannel service efforts into one tool, resulting in a better experience for both the customer and your frontline representatives.